Home


Larry Gates
Scuba Instructor and Underwater Photographer
Have scuba - will travel!

Scuba Instruction

Near/On/and Underwater Modeling Course.

This is the one course I teach that is not a PADI specialty course. I may 'someday' draft a Distinctive Specialty Course on Underwater Modeling to submit to PADI for their approval. At this time however the graduate will be issued a Certificate of Course completion and select images for their portfolios.

The course is offered to certified divers interested in obtaining modeling work. It is conducted in a workshop-like manner or seminar-like way.

I conduct the course over a two day period. This schedule can be adjusted and depending upon the needs and the diving abilities and any past modeling experience you may bring to the class. The first morning, time is taken to cover fundamental underwater photographic principles as they relate to modelling and applying those principles in a pool session. The afternoon is spent diving on a dive charter boat and practicing what was learned that morning. The second day is divided between a morning review session and the afternoon diving.

The goal of this course is to provide you with experience in working with an underwater photographer. And a modeling credential documenting formal training as well as imagery for your portfolio. The price and costs are $140 per day in tuition and $75 per dive charter trip on each day. Like any other dive instruction or photo project I will work with anyone to help them meet their goals. This is one course in which you want to contact me in order to discuss your goals.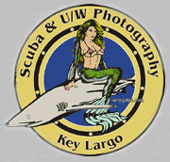 Cell Phone: (305) 522-1832
E-mail : Larry Gates
Copyright © 2008 Larry Gates Photos

For questions or comments about this site,
contact the webmaster, Bill Dunbar.