Printshop
This page contains information and links on how to obtain: enlarged prints from my gallery, stock photos of underwater subjects, prints and digital downloads of images I took of you, and of course how to get one of my famous teeshirts!
GALLERY: From here if you select the My Gallery link you will enter my Gallery pages which are mirrored on my Printer's site. My printer does great work resulting in the best quality enlargements I have found. His service equals his work. Once you have ordered, you will receive a followup e-mail detailing your order including your option choices. Payment for your print can be made using your credit card and or through the Pay-Pal payment system and is secure. I work in partnership with my printer to deliver to you high quality enlargements. From there you are only a few mouse clicks away from making a wonderfull purchase of undersea art. .
---
DIVING in KEY LARGO! If you were recently diving in Key Largo and I photographed you during your dive you can view these by Entering Here. You will also be able to order and buy enlarged prints, gift cards and other photo products, including digital downloads of the image. Choose the the dated 'Diving in Key Largo' album that corresponds with the date you were diving in Key Largo. Photography's value is it captures and preserves our memories! Our trips and dives are always too short. The images always last longer! Enter Here .
---
UNDERWATER PHOTO STOCK: Following the links in this paragraph will take you to my collection of stock underwater photographs. Enter Here The collection contains stock photos of: decorative reef fish, sharks, eels, rays, lionfish, coral and sponge species, reef scenes, photo stock of other aquatic or marine life, as well as shipwrecks. These are offered as digital downloads and in two file sizes, low resolution and full size. I offer these under two types of non-exclusive, royalty-free licenses. One license is for private use and one license for commercial applications. This collection is a work in progress. If after visting the collection and not finding the image you were looking for, please contact me.Enter Here .
---
TEE-SHIRTS for DIVERS (made with my logo): To check these out: Enter Here or mouse curse over my tee-shirt's image. These are available as tee-shirts, tank tops and long sleeve tee-shirts. I have these printed with a small logo printed on the left chest, and, a large logo printed on the back, regardless of color or style. When you Enter Here you will arrive on my vendor's site and be on my page there featuring shirts with my logos printed on 'Light Color Fabric'. Once on site, to view the colored shirt choices, refer to the 'Dark Color Fabric' menu choice, then click on 'All Products', or, Enter Here..
---
If you are in need of a specific image let me know, I have fair amount of stock imagery. I need to know its use to quote you a price. Contact me.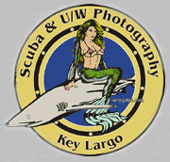 Cell Phone: (305) 522-1832
E-mail : Larry Gates


All Photos
Copyright © 2012 Larry Gates Photos