My photographic services cover a wide area...
Provide stock images to webmasters and commercial websites

Provide technical assistance to terrestrial publications needing expertise in underwater photography

Assist businesses with their promotions

Provide project consulting services

Provide trained underwater models

Arrange aquatic/marine logistics to production companies

Photograph underwater weddings


Any shoot thatís on, near or underwater is possible
I offer both private and group photo dives. Also photography for souvenir/keepsake images and glamour/erotic.
The fees for these services vary with the project. Some are flat rate, some are per hour, per day or half day. All are plus expenses.
The equipment I use is Watershot, Canon, Olympus, Inon, Seatool, Ikelite, Ultralite Control Systems and Sea & Sea manufactured and rarely my old Nik III.
Contact me with your requests and we can make it work.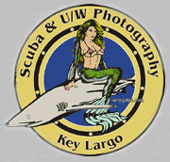 Cell Phone: (305) 522-1832
E-mail : Larry Gates
Copyright © 2012 Larry Gates Photos